When I saw this game in the Firefox Marketplace, my heart leaped up and I thought this might be a variation on an old arcade favorite of mine,
Pengo
.
But alas, it was not. The game is Penguin Pop and you can get it at
https://marketplace.firefox.com/app/penguin-pop
. Penguin Pop is a variation on Whac-A-Mole, which was an early action game from the arcades where you physically "whack" little moles as they come out of their holes.
Well, that's not this Penguin Pop either! The Penguin Pop in the Marketplace is a fun little game that lets you whack penguins and see how high your score can go. Here's the opening screen: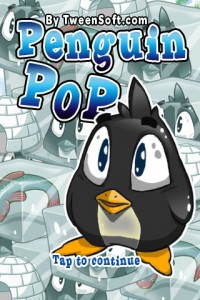 And here's a screen at play: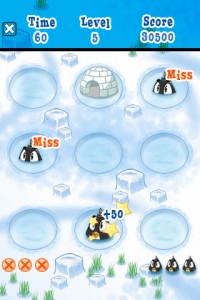 You tap on the screen with and hit the penguins as they pop up and before they pop down again! However, if you tap on a bear or a shark, you get a "fault" and three faults and the game is over. Also, if you don't get three penguins in a row, you get a fault. As the game progresses, you also will be tapping on fish and igloos, and some penguins "may need more attention than others".
Overall, this is a good game to play when you have a few minutes and don't want to think a lot. This game is good for increasing your ability to react quickly. This is the kind of game I'd like to play while I'm waiting. My only complaint is that I tire of it easily, but I can always go back to it.
The art is very nice, however, and pleasing to the eye.
Rules were easy to read and understand and told me everything I needed to know.
The developer,
TweenSoft
, has lots of other games, and it looks like Penguin Pop is also available for Android and iOS as well.
Cost: Free
Genre: Arcade
Score: 4 (out of 5)
Tested on: ZTE Open (Firefox OS)
Get it at: Firefox Marketplace