I've had the ZTE Open phone in my hands almost a week and I'm happy with it. I had been trying to get a
Geeksphone
for months but they were always sold out. Then I saw that ZTE was selling a Firefox OS phone on
eBay
and
NewEgg
, I ordered one from eBay (cheaper and free shipping).
Here's what it looks like: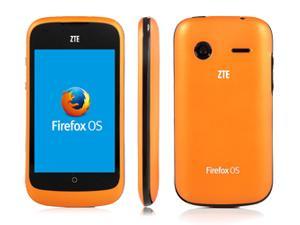 Here's the specs:
CPU 1.0 GHz Cortex-A5
Chipset Qualcomm MSM7225A Snapdragon
GPU Adreno 200
OS Firefox OS
Memory 512 MB ROM, 256 MB RAM
Support Micro SD Card, up to 32GB (No memory card include)
Screen 3.5" TFT 320 x 480 Pixels
TFT Capacitive Screen
Network 3G Network: HSDPA 850/1900
2G Network: GSM 850/900/1800/1900
Audio 3.5MM headphone jack
Supports MPEG-4 AAC (M4A), MP3, OGG and other formats
Video Supports H.264, MP4, ASP, WebM and other formats
Wlan Wi-Fi 802.11 b/g/n, dual-band
Camera Back 2 MP
Picture Formats Support JPEG, PNG, GIF, BMP and Other Formats
Dimensions 114 x 62 x 12.5 mm
Battery Li-Ion 1200 mAh battery
Package Include
1 x ZTE Open Firefox OS Mobile Phone
1 x Battery
1 x Micro USB Cable
1 x Charger
1 x personal hands-free headset (PHF)
My Opinion (so far)
I've owned several types of phones before and my initial impression was that it seems a bit similar to my iPhone 4. Round icons, swipe to left or right, one main button (no back button), and press on the background to float apps so you can move or delete them.
There's an app store and I'm busy loading up with apps and seeing what they have. Since Firefox OS is still new and still making big changes, I don't expect every app that I use on Android or Windows or Mac or Linux or iPhone or ...
In general it works, it didn't cost much, and I had a spare micro SD card and a spare SIM card.
You will need a SIM card for this phone. It is unlocked and you can't make a call unless you get a SIM card (standard size, like a postage stamp). You'll also need a micro SD card, but only if you want to store music or videos or pictures. There's also a slot in the back which I think will take micro SD cards, but I haven't tried it yet.
Problems
The phone doesn't feel as sturdy as my Galaxy Note II or my iPhone 4. But it is a lot cheaper, so I'm fine and so far I haven't broken it.
However, there is one problem that has surfaced, and that is that the updates from ZTE don't work and may even "brick" your phone, so don't do an update. I don't know where to check for the validity of updates, but I saw that these problems are mentioned on the
Boot-to-Gecko
mailing list.
But in general, I'm in love. I'll be reviewing games I get through the Marketplace and maybe even a few non-game apps that are cool.